This is a post written by me on behalf of Cottonelle, who want you to have 25% more this holiday season.
There are plenty of things of which I'd like to have 25% more.

Chocolate, for instance. I'd take 25% more cookies. Twenty-five percent more cash money. If 25% more people started following my blog, I'd be super happy.
But this is December, and during December, my thoughts turn to Christmas. The Holidays (and I mean ALL of them) are so much more fun with Luke around, especially now that he's three. The problem is, I'm going to have, like, 75% LESS holidays with them. ALLOW ME TO EXPLAIN.
Last year at Christmas, I took off many of the days surrounding Christmas and New Years Day (our two paid holidays at work) and it was glorious. I did 25% more of so many things, including painting my nails and cleaning and staying up late and snuggling. This year, however, I will have two singular days off. Two! Just two. Now, I'm well aware that having any paid holidays is a luxury, but I can't help but feel a little let down, especially considering last year I was off work for 17 straight days. I'm saving my days for maternity leave so I can have 50% more children to care for. That's important. But there wont' be a Christmas tree up then so….
To complicate things, you guys, I work for a hospital that is affiliated with the University of Florida. I work on a mixed team of UF employees and hospital employees, and in my suite (and on my floor) I'm one of two hospital employees. UF employees get off Christmas eve through New Years eve because the University if closed. The hospital pays my paycheck, so they are all, "we're not closed, so you're not closed." It might possibly be the most lonely week at work evar.
Ok, so I won't be totally alone.
See? Look how cute. I have a festive glitter tree from my friend at work, a grumpy cat cut out and a plush penicillin. Why do I need coworkers and lights on if I have these crazy characters?
The hallways also get kind of festive at work.
It's not THAT festive. I kind of added the reindeer antlers and all those presents, but a girl can dream, can't she?
So this year at Christmas, besides having more of the regular Christmas stuff — fudge, presents, money — You know what I want?
I want 25% more time off from work.
Santa, do you hear me?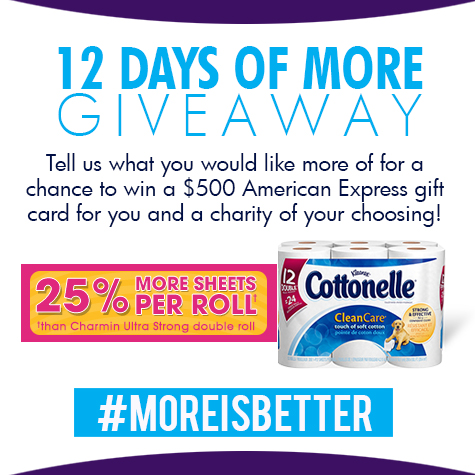 Did somebody say 25% more!? More is better, and can make a huge impact this holiday season. Cottonelle also believes the "more is better" philosophy — their new rolls have 25% more, so you wont' get short-sheeted! Enter the Cottonelle giveaway that opens on Monday December 9 and ends Friday December 20. One winner (from all 30 giveaways) will be selected daily to receive a $500 American Express gift card for themselves and a charity of their choosing. Winners will be announced daily on the SITSGirls Facebook page:https://www.facebook.com/SITSGirls
a Rafflecopter giveaway

Did you like this? Share it: