Enter to win a signed copy of Heather McDonald's new book, My Innappropriate Life!
We're less than a week away from one of my favorite holidays that I have no business celebrating: St. Patrick's Day. I mean, you guys, I'm not Irish and typically celebrate by going to Beef 'O Bradys and getting a green beer. I know, I know.
I believe my love of St. .Patricks Day started in college when we drank lots of green beer  because I love the color green. It's not only my alma matter's color (WE ARE…MARSHALL) but it reminds me of spring, flowers, and the warm weather that's to come. Green to me is fresh and trendy; the color emerald has been named the color of the year in fashion and style circles, and the color emerald, a light, lime green and a light jade color are all part of the Spring 2013 trends.
Check out my Spring 2013 Pinterest board for outfit ideas.
But today, we're here to talk about the color emerald.
5 ways to accessorize the color emerald
If you're addicted to wearing the color emerald, you might be tempted to wear it every day, and that's OK. But sometimes you just want to wear the color emerald in a more subtle way. Here are a few ways I've been wearing the color emerald.
Nail Polish
I bought Zoya Logan during the Zoya three free sale in January. Zoya Logan is from their Ornate collection and I had my eye on it from the first time I read about this collection. Zoya Logan (buy it on the Zoya website here)  is an emerald polish with silver and gold microglitter and IT IS AMAZING.
Scarves
Ive started wearing scarves lately for two reasons: 1) it's a cute way to look casually pulled together and 2) the temperature in Florida lately has been 40 when I leave for work and 80 when I leave for home so….. I love this emerald scarf I bought on eBay. It's long enough to do lots of fun things with but super light so you can use it for layering and to add a pop of the color emerald. Buy it here on Amazon for $9.
Necklaces
This is another purchase from eBay because a girl can't have too many statement necklaces, amiright? In retrospect, this is a really terrible picture of the actual necklace, so here it is in the promotional photo:
This emerald statement necklace is fun and trendy, plus it won't set you back: this one is only $16 on Amazon.
Cardigans
AHHHH Cardigans. What is better? NOTHING is the answer to that question. I love cardigans so much, if I could, I'd marry a cardigan and have tiny little cardigan babies. This emerald cardigan is one of my refashions from an old polo shirt and I wear it almost once a week.
Shoes
I bought this shoes almost brand new (still had the price tag on them!) at a thrift store in West Virginia during a trip to visit my inlaws. I could hardly believe my luck, considering I don't usually buy colored heels like this for regular price. These are not comfortable — they will pinch your toes and scrape your heels, but they. are. amazing.
What's your favorite way to wear the color emerald?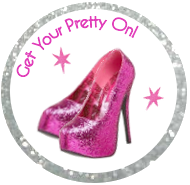 Did you like this? Share it: