I've always been afraid that once I got my sewing machine, I'd eventually get to the point where I have no time to refashion. Unfortunately, the late fall and winter months proved me right. I started my latest pocket tshirt to ruffle tank top refashion the night of thanksgiving when Kelsey was our shopping for me. Months later, I finally finished it. As in, last week. As in, more than two months after I originally started it.
This one started as a really nice Ralph Lauren Polo from Goodwill I snatched up for $4. Our Goodwill is expensive y'all. I loved the feel of the soft, silky cotton and the color, a slate grey that pulls a little olive in certain light. I thought it would make a cute pencil skirt, but at the last minute I turned make a pocket tshirt to ruffle tank top refashion. It looked like this before: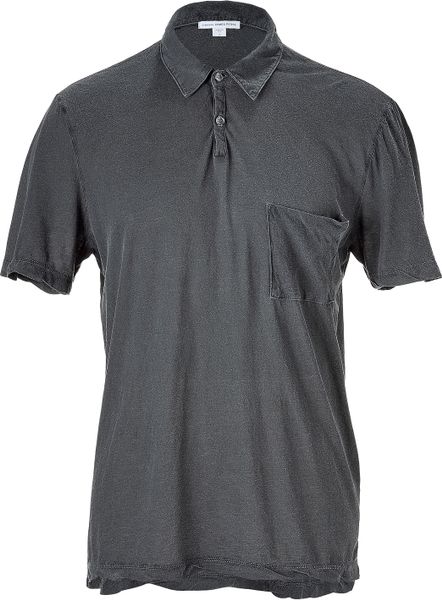 I used a tank top with simliar stretch material for creating the base of my pocket tshirt to ruffle tank top refashion. I've made the mistake way too many times of using a different material shirt for the pattern (like when I used a stretchy shirt for a linen top refashion and couldn't button it over my boobs, ANYWAYZ.) I had pictures of this, but you know, it was in November and my phone is two iPhone editions behind, which means I didn't have space, so RICS (rest in cyber space) picture of the pattern. I cut extra material off the sides, cut off the collar and buttons and made a scoop neck, and cut off the sleeves. Now, all that was left was that pesky pocket:
Look how lame that looks! In all honest, when I started the project I wasn't sure how it was going to turn out, but we all know how I love ruffles, so I knew this would be the perfect solution to covering up the carcass of this stupid pocket for my pocket tshirt to ruffle tank top refashion. RUFFLEEEESSSS! I took all the extra fabric pieces from the sides of the original pocket tshirt and cut them in long, wide strips about the same length.I put them through the machine using my typical ruffle technique you can find here.
Unfortunately, each one of the ruffles individually wasn't long enough to cover the entire neckline and the outline of the pocket that was still left on my freshly sewn tank top. I decided to get a little asymmetrical with it. I started pinning the ruffle on the top of my tank top starting at the top right. Where that one ended, I started a new ruffle to finish it off on top.
At this point, the ruffles on my pocket tshirt to ruffle tank were uneven — on one side, the ruffle was a bit lower. So, I added another ruffle starting on the opposite side (the side I just finished), pinning it under the original ruffle. I did the same for the opposite side. Basically, the ruffles met in the middle of the tank top (I sewed them together to keep from having a gap) and covered the front of the tank top in a criss-cross pattern, with the previous ruffle covering the stitches.
Because I'm a ding dong and got rid of those pictures, I drew on a tank top to see how the inside / layout of the stitches look:
The pocket tshirt to ruffle tank top refashion turned out so much cuter than I originally intended and fits great. I love these kinds of tanks for layering under cardigans or blazers because I can take off the layer and it still feels appropriate for work. The ruffles give it just a little dress, but with a pair of jeans, it can be dressed down. I want to fill my closet with 40000 of these pocket tshirt to ruffle tank top refashion.
Here's the final product:
I have a plan for the first time I wear it and it involves a short sleeved crop jacket, so plan on seeing that from a bathroom mirror on an Instagram feed near you.
Did you like this? Share it: