Y'all know I don't really like sports, right? That's a well established fact. I've learned to live with them as my husband is a certified sports-a-holic, but I'd never, EVER choose sports over, say, checking my Facebook or playing on my blog. Beyonce lip synced national anthem
There are only three exceptions to this rule: drama, documentaries or scandals. After bowl season, I'm suspiciously interested in football. We will watch a bowl game and whoever loses, I just presume the coach will be fired or at least virtually tarred and feathered on the message boards.
"Is he going to be fired? I bet he'll get fired."
"Oh, fans are going to ask for his head on a platter, for sure."
"Did you see the news? Such and such coach was FIRED!"
Then there are the documentaries and human interest stories. I might choose a 30 for 30 about Bo Jackson over an episode of Say Yes to the Dress. Although it's sort of tricking me into caring about sports, I have a feeling Kelsey doesn't  really mind.
Then there are scandals. Ohhhh, boy. Scandals! I can't get enough of sports scandals. Gun in the locker? Interest piqued. One basketball player rfuses to play with another? Oh yeah, I definitely will form an opinion about that. Star quarterback involved in a hoax during which he believed his long-distance girlfriend was real, and then died? OBSESSED.
The situation isn't news. A couple weeks ago, Deadspin published an article breaking the news that Manti Te'o, Notre Dame quarterback, was involved in a hoax in which his allegedly dead girlfriend  , Lennay Kekua, was  completely fake. Manti Te'o was interviewed by Katie Couric Thursday and he spilled a few beans, but not before TMZ started posting all KINDS of crazy stuff, including Manti Te'o voicemails from Lennay Kekua – otherwise known as Roniah Tuiasosopo disgusing his voice to sound like a woman WAHHHHAAATTT??????? Take a listen — THIS SOUNDS LIKE A WOMAN:
Am I right…AM I RIGHT??? Please tell me I'm not the only one whose world was rocked by these voicemails. I mean, I'm sorry, but Lennay Kekua aka Ronaiah Tuiasosopo sounds like some crazy ex-girlfriend..like really, Miranda Lambert level insanity. Like, if she were a real person, she'd be burning his house down with footballs filled with gasoline. No joke. Of course, TMZ being TMZ, they had to follow it up with news about Ronaiah Tuiasosopo's intense emotional feelings for Manti Te'o and video of Ronaiah giving Manti Te'o a super awkward hug. And of course, they lead their Katie Couric interview coverage off with the headline: Manti Te'o I'm FAR FAR FAR From Gay. Lord in heaven, this is juicy.
Katie Couric, in her quick-witted, take-no-prisoners interview style (Tee hee), got down to the bottom of the hoax — or at least skimmed the murky surface. Manti Te'o claimed he saw no red flags….even when he tried to video chat with Lennay Kekua and all he saw was a black box….even when she was suddenly diagnosed with leukemia after JUST waking up from a coma…even when they were supposedly in Hawaii at the same time and were planning to meet up but instead she said her brother took her car. I'm sorry…
In other scandal news, there is a 90% chance Beyonce lip synced National Anthem and a 100% chance I believe she did regardless of the facts (this is why I was never very good at reporting.) After Beyonce lip synced National Anthem, a spokesperson for the U.S. Marine Corps band told reporters Beyonce lip synced National Anthem, but then told people later that the BAND had a pre-recorded track, not Beyonce. Aretha Franklin doesn't  believe Beyonce lipsynced the National Anthem, but here's why I do.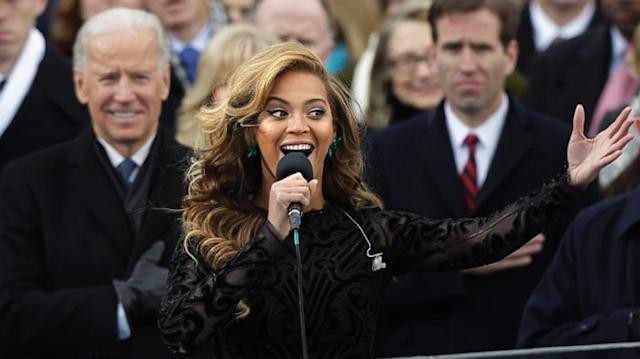 But wait, there's more!
I've reached the bottom of the celebrity gossip barrell, y'all. Have a great weekend!
Love
Amanda
Did you like this? Share it: