Whew, let me tell you about our wild Saturday night. I mean it was just out of control. I'm still trying to recover.
First we went to our favorite Mexican place, Las Margaritas. We totally splurged for the queso dip.
Then we came home and some of us got rull crazy and took off their pants.
We did a little of this:
And this:
And this:
(Sorry it's sideways. Clearly technology perplexes me.)
And then we watched Over the Hedge.
(What! Stop it Austin, somebody's gonna have to call sukurity to settle y'all down.)
And we ended it with some of this:
I wouldn't trade a single moment of these wild nights for a thousand wild nights of my past.
This is pretty much the perfect Saturday. These ARE the good old days.
How do you spend your Saturday nights? Talk about it on my Facebook fan page!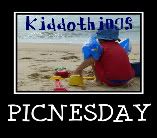 Linking up with By Word of Mouth Musings , Carrie with Children and Live and Love Out Loud for Wordless Wednesday.
How much would your favorite sister, cousin, or mama love this sweet mug for Valentine's Day? Click below to grab yours today!
Did you like this? Share it: