Link up your favorite Holiday movies! #holidaymoviemania
"Come on, Baby Blogworthy, let's go see Santa."
"Yeah, let's hand you over to a big fat man in a red track suit so you can beg for toys."
When we put it that way, Santa sounds uber creepy.
Here we are, the Blogworthies, quickly approaching the second Christmas with a baby in our home. This time last year, the thought of putting on something non-milk stained and braving the cold (50 degrees, natch) to subject my weeks old child to all the nasties that are lurking on a Santa suit was not something I could handle.
This year — totally game.
Second Christmas, first Santa trip.
(Guess who finally got Instagram and has two thumbs that are twisted into claw-like shapes because she can't put down her iPhone? THIS GIRL!)
Luckily, the local mall had a very sweet and mild-mannered Santa rather than a creepy one. Baby Blogworthy smiled at him at first but the second Hubby and I walked away so the two of them could get their picture taken, stranger danger kicked in. He didn't cry, but he certainly wasn't comfortable.
It would be a mall Santa trip without a little awkwardness, right?
(I feel like Megan would really enjoy the above photo.)
The best things in life are free — like smiles and hand holding and surprise gifts.
Other things you have to pay for.
 (Have you liked me on Facebook yet? You totally should. You're missing out on lots of random pictures and links!)
Linking up with Letters for Lucas and Mommy of a Monster for Santa Pics 2011 and Liz and KLZ for iPPP (now with 100% more iPhone!)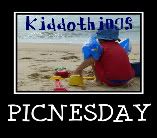 Did you like this? Share it: