This guest post is brought to you by Jayme, better known around these parts as the Random Blogette. Jayme was one of my first blog friends and remains one of my favorites. Someday her family and mine will get together and have the best time EVER eating kielbasa, drinking beer and acting a fool.  It will happen — oh yes — and I'm sure there will be a vlog to prove it.
In the meantime, enjoy this tidbit of Christmastime awesome from her sweet little Peanut!
____________________________________________________
One of our favorite things to do around Christmas is to drive around and look at the Christmas lights at night. Most of the time the kids fall asleep before we are done but it doesn't matter to the hubs and I. It is just so much fun for us and it gets us into the holiday spirit.
The other day I was driving the kids home from my mom's house and I hear Paige shout out, "Look Mom! It's Jesus, Mary and God!"
I literally almost slammed on the breaks. I figured maybe someone did some creative decorating for Christmas. I was also pretty impressed with my little half-Jew. I was impressed that she knew who they were. I am not the best Catholic. I don't go to church regularly. We also don't ever go to Temple.
AnyJesus, I looked out the window and saw this…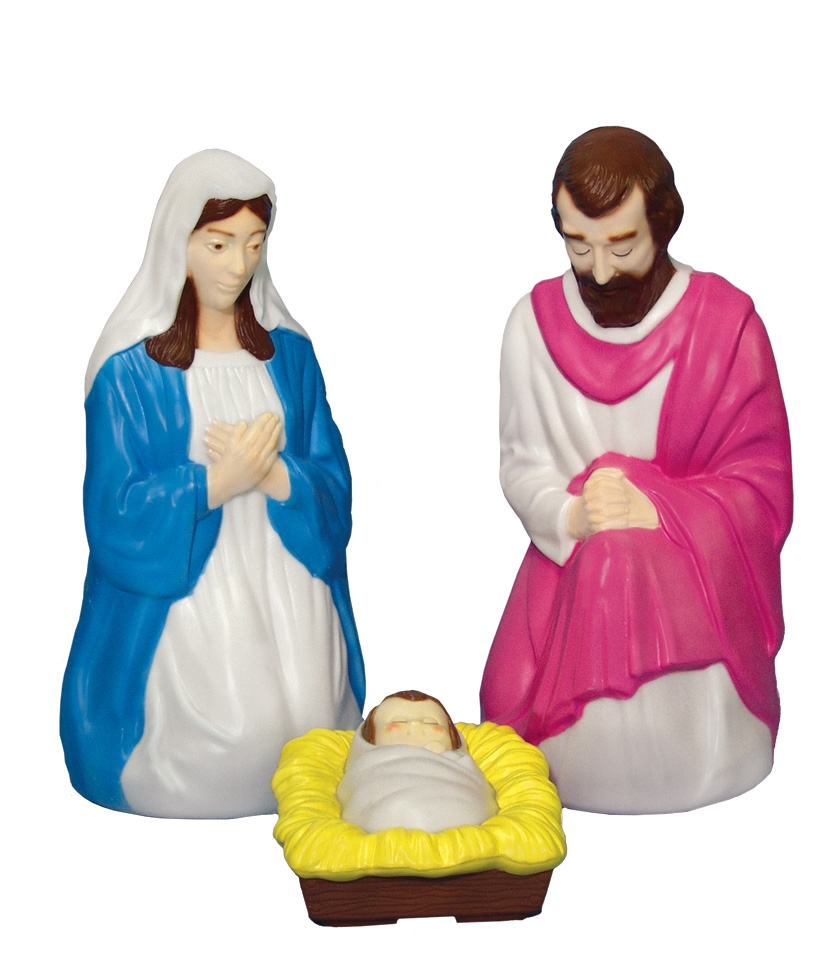 Ok, it was a little more extravagant but you get the idea.
I was a little confused and thought maybe I heard her wrong so I asked her what she said.
"I said, it's Jesus, Mary and GOD!" she shouted. She is so sweet. ;p
I giggled and said, "No honey that is Jesus, Mary and Joseph."
"But GOD is Jesus's dad, mom!" She quickly corrected me. Seriously, totally impressed right now.
"Well, honey that is correct, but that is Joseph. He is like Jesus's step-dad but with full custody," I explained.
"Oh, just like how you are with Jacob? You are his step-mom but he is with us full-time?" she inquired.
"Exactly! You got it!" I squealed!
I was totally impressed that she figured that all out. She is one smart 6 year old. And, of course, the whole time we were having this discussion Jake just sat in the back seat and rolled his eyes.
So now you all need to remember Joseph is Jesus's step-dad with full custody.
Even a little half-Jew can figure that out…eventually!
*Gold star to anyone who can figure out what movie the title is from. It is one of my favorite movies ever!*
Well….what movie is the title from? Leave it in the comments! And a big THANK YOU to Jayme for stopping by. Now go follow her! NOW! or Like her on Facebook!
While you're at it, why not Like me on Facebook?  I'm at my in-laws right now and will be sending exclusive pics of her  porcelain   knick knacks! A must see!
Did you like this? Share it: