After I rocked the bump, I rocked the baby! My bloggy friend Shell came up with the idea to showcase our little ones.
This was taken just a minute or two after Baby Blogworthy's birth. I was only in labor for 12 hours and pushed for only about 45 minutes. I was lucky.
This was, literally, only the 10th time in my life I'd held a baby. It was the first time I'd held a baby only a minute or two old.
After we left the hospital, he liked to sleep, but only in someone's arms and only during hours when other people were awake. This is where the rocking really came in handy.
We rocked at 3 am, staring at one another, surrounded by the darkness and quiet.
We rocked in the nursery after he filled up his belly and fell asleep in the most awkward of places.
We rocked in the living room whilst wearing funny hats.
Baby Blogworthy is 7 months old now, and although he would rather sit up and look around than lay quietly in my arms, sometimes I still get to rock that baby.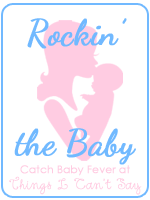 Did you like this? Share it: