We had our house cleaned a few weeks ago by some professional cleaners.
It looked super fab and beautiful and shiny. I could see my reflection in the floors. I could drink out of the toilets (ew, just kidding, ain't nothing that clean). They worked their fingers to the bone, sweeping the bunnies out of every nook and cranny in our house.
They had their work cut out for them, too. It had been approximately 13 weeks since the hum of a vacuum cleaner was heard at the Casa de Austin; approximately 4 months since any toilet or shower was cleaned; approximately the whole amount of time we've lived in our home since someone pulled out the fridge and cleaned behind it. Holy disgusting, batman.
Ten bleach filled hours later, the Pledge and Windex haze started to settle and we discovered some things were missing.
Nothing important like jewelry, cash or game systems — although we do have so many game systems, we probably wouldn't realize if they WERE gone — but little things we take for granted as not trash.
Let's play a little game, shall we? It's called Trash or Not Trash. I'll give you a picture and two line breaks to guess, and you tell me if it's Trash or Not Trash. (and by "tell me", I mean, "guess silently to yourself"). I'll also tell you how the cleaning guys categorized these items.
2010 Page-a-Day Civil War Calendar
What's your guess?
The answer is: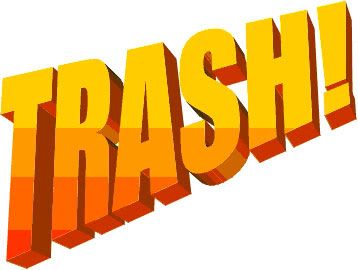 The cleaning people said: NOT TRASH! That's right, they kept that page-a-day calendar, as well as two more from 2010 that we'd neglected to throw away.
Next up:
Slightly dirty but not torn up at all yellow flip flops.
Your guess?
Actual answer:

Their answer? TRASH! What person in their right mind throws away a perfectly good pair of Old Navy flip flops, circa 2005? Really now. What if those are my bathroom cleaning flip flops? (Hint: they are.)
Let's move on to the next item!
Vogue magazine from September 2010
What's your guess?
Answer is: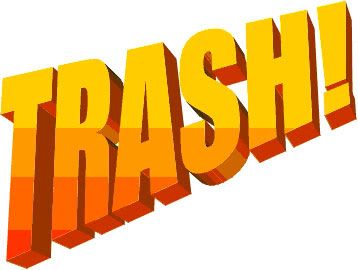 The cleaning people? Put this in a safe place in our linen closet, where all outdated magazines with torn, crinkled pages, covered in bath powder should go. OR NOT!
This last one basically stabbed me in the heart, then twisted the knife, then blood spewed out of my heard and all my blood drained out and I died. And I'm writing this blog from the great beyond.
My favorite stuffed penguin I slept with for probably 18 years of my life and that's not an exaggeration.
What's your answer?
What's the REAL answer?

OF COURSE it's not trash. What about a cute stuffed penguin, almost in mint condition, might I add, would make a person say, "Welp, to the trash can you go! Clearly nobody wants you, even though you're on the floor of a bedroom right beside a closet!"
Apparently, everything about that cute stuffed penguin says "I'm trash!" because that's where we found it, folks, along with the other "not trash" items.
Picture it: hubby and I digging through upwards of 8 black trash bags, pulling out things that were tossed but not trash. Dog toys. Belts. Dress socks. Baby socks. A bag containing craft scissors and thread. My Venus razor, perched in the shower right next to a bar of soap and my shampoo. Don't worry, cleaning people, I don't like shaving my legs anyway and wasn't using that brand new razor.
EXCEPT FOR THAT I WAS USING THAT BRAND NEW RAZOR.
Anyway, this experience leads me to two conclusions:
We all have different ideas about what should be trashed.
I'm glad I'm not independently wealthy enough to have housekeepers. With the energy I expended digging through trash bags, I could have cleaned my own house.
Have you had your house cleaned before? Do you hate searching through garbage bags?
Did you like this? Share it: