I was going to save this for my anniversary, but I decided to Pour my Heart Out today instead.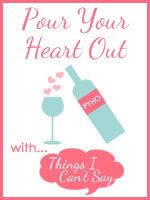 My husband is a living, breathing prince charming. No, it's not because he's super classy or rich or puts his boxers in the laundry basket. Or because he always puts his dishes in the dishwasher (because he doesn't). It's mostly because he treats me like a princess.
When Hub and I met, I didn't want a relationship. I liked things the way they were. I'm not saying it was love at first sight, but I was definitely smitten from the beginning. Things moved pretty fast with us, but we both just knew from very early that we were each other's "one".
My relationship with my husband doesn't define my life, it enhances it. His strengths are my weaknesses and vice versa. We're truly the perfect match — neither of us are perfect, but we're perfect for each other.
He makes me laugh all the time. No one else might think it was funny, but I do. He's silly, crazy, and downright witty. He's very handsome, too. His smile can light up a room. Today I was talking with my Mom and she said he could "charm a snake" — she didn't mean that in a bad way, just in a way that he can make the nastiest, grumpiest person happy.
He stands up for me and fights for me. For our family. When we were having issues with the daycare person over how much milk I was giving the baby, he calmly explained to her how breastfeeding worked, how it's different, what to expect. He had listened to every word I told him, even when I didn't think he was listening.
He's my shelter in a storm.
My husband is caring — the most sensitive, caring man I've ever met. He has a soft heart for animals. We've adopted five cats and one dog, and we've fostered more than I can count. He can't say no. I don't want him to.
He's a tremendous father. Absolutely amazing. Hub plays with Luke, makes funny faces, sings songs and helps him play with toys. I'll say it here for all the Internet to see — Hub was the first person to make Luke smile a real smile. Along with the love comes worry. He worries about Luke all the time and sometimes it drives me to the nuthouse, but it's out of love for our little blessing.
He also cares about me deeply and purely. He knows exactly what to say when I'm at my breaking point. Last night I was exhausted. I hadn't stopped from the time I stepped out of bed until the second I stepped back in. He rolled over and spoke over the white noise of our sound machine, whispering so we didn't wake up the baby: "You're my best friend and a wonderful wife and mother. You're doing awesome. I love you."
Hearing those words gives me the renewed spirit to get up the next day and do it all over again.
I was lucky to grow up in a home with an outstanding father. He reads this blog, I know he does. He checks it all the time. Hi Dad, thank you for showing me what a husband and father should be.
Hub doesn't read my blog, but he should. Hi Hubby, thank you for being the best husband and father to my son I could ever wish for. You're my prince charming.
Did you like this? Share it: