Remember last summer when I wrote about the Bachelorette like it was my job, even when I made up an episode recap that was published while I was on my cruise?
Ah, the good ol days.
I was so super excited that it was Bachelor time again. I mean, I have always loved to hate that show. I am a recent convert and started about the time I started my current job, exactly three years ago. My friends there watched it, so I thought I would too.
1. Bachelor Brad is brain dead. I am pretty sure there is nothing going on behind those eyes.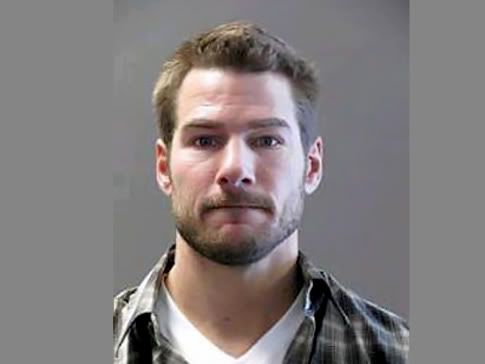 When you look at that photo, do you see anything other than a pretty face? Is it really all that pretty?
Additional theory? He's a robot.
2. The girls are too boring. There's only one psycho one, and while she's RULL psycho, it's not enough to hold my interest. I need to get behind one of them (that's what he said), but they all sort of suck.
3. Speaking of the girls? Too skinny. One girl is a food writer and I could see her ribs when she was wearing her bikini. What kind of food are you writing about, sisterfriend? In that scene they were jumping off rocks in Anguilla into the crystal clear water (TOTALLY AND COMPLETELY UNFAIR ALERT). The rocks were all, is she also a rock? Because she's so pointy and sharp. Me and my 10 pounds of baby weight aren't in any kind of mood to see skinny girls complain about how fat they look in bathing suits, thankyouverymuch.
4. I have a baby. Unfortunately, a baby doesn't care if it's time to eat right when Brad is giving out his last rose. Luke is all, "This is fun and all, but it's time to munch on a boob, so let's get to gettin' woman." And I'm like, *sigh* Ok.
And besides, the show is two freaking hours long. ABC, we know what happens: date, drinking, tears, repeat. Throw in a rose. Say "this journey" 14 times. Say "in this for the right reason" another eight. Kissing with and without tongue.
Actually, this could be two separate reasons, but I have one more.
5. It's not like I don't believe in second chances, but you're telling me that of all the eligible Bachelors in the United States — millions of good looking men between the ages of 25 and 35 — Brad Womack is the ONLY one suitable for this show. Brad, who already had a chance and squandered it by choosing himself.
Listen, it's not like Brad was hit with the ugly stick too very hard, but he's a couple cents short of a dollar. His conversations with the girls are awkward at best, and his voiceovers are stilted and weird. The last episode I watched, the was making out on the beach with the psycho girl while two other girls watched in horror. I'm talking, like, grope city USA, population THOSE GUYS. And then in the voiceover he says, "Whoo boy. I really messed up this date big time." Firstly, yes, yes you did. Secondly, "whoo boy"? Are you a farmhand from Missouri? Are you a 5 year old boy? I'd like to know how he justifies saying "whoo boy".
And then there's his dependency on his therapist, whom he calls on the daily. It's just bizarro.
My faithful Bachelor/Bachelorette reading followers, I'm sorry I've let you down. Maybe next season I'll be more entertained.
Are you watching the Bachelor? Do you miss my recaps? Clicky here to see all my Bachelorette posts from last year.
Did you like this? Share it: