Hi.
Hello.
Happy Valentine's Day to you.
Oh. You hate Valentine's Day, you say. It drives you into a deep, powerful depression? Is it because you're lonely? Hate crowds? Allergic to roses?
Well, I"m here to tell you, on this beautiful holiday (with promotional considerations from Hallmark, Russell Stover and the Olive Garden)(because isn't that where people go for romantic dates?)(I need to get out more), that it's closing time for your pity party — you don't have to go home, but you CAN'T STAY HERE FEELING SORRY FOR YOURSELF.
Feel sorry for Charlie Sheen instead.
Sure, you might not have a boyfriend, girlfriend or husband. Or maybe you're the only person in your office who didn't recieve $50 roses delivered straight to your cubicle. But it could be worse.
You could have recently been rushed to the hospital after smoking and snorting a briefcase full of coke while partying in the room in your mansion dubbed the "Porn Room" with — surprise, surprise — porn stars. Then you could have been released from the hospital into "in-home rehab", which I'm sorry, sounds pretend.
And the porn stars look down and pity you.
And you could have just finalized your third divorce in 15 years.
And the only real success you've had since the 80s, a TV show that's inexplicably popular, could be cancelled because you can't get your crap together.
And when somebody Googles you, these searches could come up:
In 0.12 seconds, Google could pull up a search presuming you're dead. And on any given day, that could be 60% true.
So this year, don't get sad face about this wonderful day, this tribute to true love. Call someone and tell them you love them, then embrace the fact that you aren't Charlie Sheen.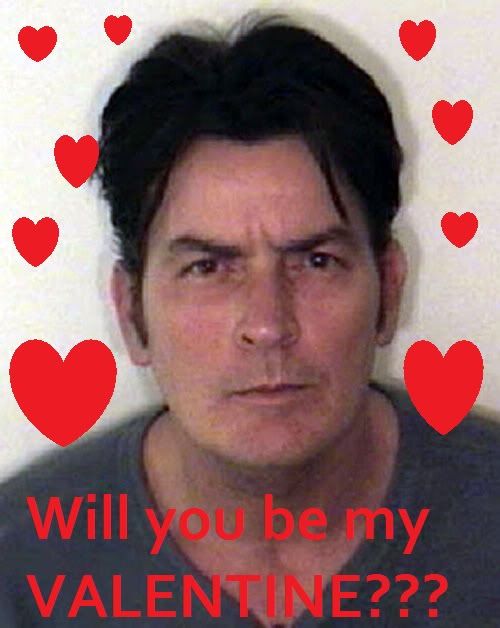 There's always a table open at the Olive Garden.
Did you like this? Share it: