I love bananas.
I eat a banana every day for my mid-morning snack. You know, because of my ravenous monster baby. And although I'd rather eat a hash brown or cookie, I try to stick with healthy stuff while I'm at work. It's so people wont' get all judgy with me.
I'd also like to say that eating this daily banana has kept me from having ridiculously painful evening leg cramps. A little free advice to other pregs out there from me. You're welcome.
(When I typed "cramps", I first spelled it c-r-a-p-s, something else you other pregs are probably intimately familiar with. I almost left it like that.)
Anyway. Bananas.
I got this bunch of bananas at the store the other day. Actually, I almost put them back on the banana shelf because the top two in the bunch were enormous. Like, they made me physically uncomfortable to look at. I'm thinking to myself, that's like a banana and a half — who can eat a banana that large?
But I brought it to work with me and had to capture the moment for Twitter.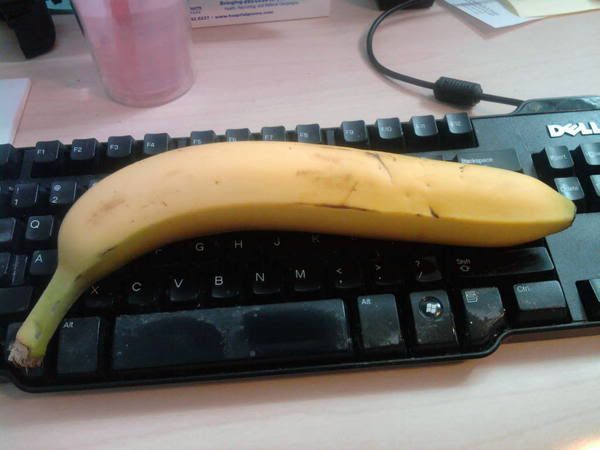 It's as long as my keyboard! I mean seriously!
This is where all y'all who aren't on Twitter are gonna get jealous. My Twat friends saw this picture yesterday. Along with this status.
Then Surferwife got into it. She was the ONLY person who commented on my big banana, and I am ashamed for the rest of you. I thought for sure I'd get some kind of reaction from you closet pervs but whatever. Surferwife is pretty much my main instigator and troublemaker on Twitter. She's like my friend in college that would sit with me and talk the whole time so we'd both get in trouble.
Later I tried to bribe Liz with a gigantic banana into making her response to me her 10,000th Tweet. I was 9,992. But apparently she just doesn't like big bananas.
Later than that, Surferwife told me I was out of control and it was the nicest thing anyone has ever said to me.
So what's the point of this random blog?
1. Bananas are delicious.
2. Sometimes they are too large.
3. If you don't have Twitter or use it regularly, you're seriously missing out on awesome stuff like this.
4. I can make a blog entry out of just about anything, apparently.
5. This post is bananas. B-A-N-A-N-A-S. (What one of you did not have that song already running through your head? We cannot be friends if you didn't.)
I'm sure you sickos have lots to say about this banana post, try to keep your heads out of the gutters as you are responding lest I write a blog about my love of the word "balls".
What's your favorite fruit? Do you have Twitter? Would you like to follow me (it's @amandaaustin). Are you disappointed that I haven't written for, like, a week, and I put up gibberish like this?
Did you like this? Share it: