We had an extremely important decision to make this weekend.
Sunday night we're just chilling and my husband randomly pauses whatever we were watching (probably football) (definitely football because that is the current torture he's putting me through) and turns on his PlayStation. He has three gaming systems — I feel like that's necessary to note. I asked what he was doing, not that I minded him putting the temporary kibosh on the stupid football game, but because WHY ARE WE GAMING? What is that important?
Apparently, two very super fun and interesting and not at all like the 2010 version that came out last year games were launching on Tuesday. And he had to decide quickly which one he needed.
Like I said, it was very important.
So he downloaded two demos: NBA 2k11 and NBA Jam. Basically, two versions of the exact same game.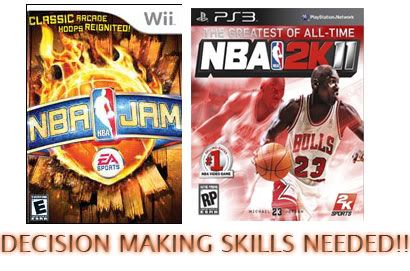 But only to the uneducated and uninformed player, because you guys, they are SO totally different. For instance, NBA Jams is like the old-school arcade style basketball game and features current players. NBA 2k11 is a NEW basketball game and features current players and as an added bonus? IT FEATURES MICHAEL JORDAN. Because he….still plays? Because….that makes sense? (The answer is NO to both of those situations.)
NBA 2k11 PRO: Has Michael Jordan.
NBA 2k11 CON: Really hard and he can never beat it and then gets tired of playing and I yell at him for spending all that money and then not playing.
NBA Jams PRO: Awesome arcade game just like the one he played in 1987, and if he remembers correctly, the 7 year old him had. a. BLAST.
NBA Jams CON: Does not include Michael Jordan.
So what did he decide? The easy, old school JAMS game, which he played for about 15 minutes and ended up "beating the computer", which I guess is a good thing?
Now he's free to enjoy this game for the 2.3 times he'll open it and then will later sell it for half of what he bought it for through his Amazon business. The life of a gamer.
Do you like to play video games? Can you imagine a choice quite so difficult?
Did you like this? Share it: