Hey, y'all, welcome to..what day is it? Let me check the dry erase board outside: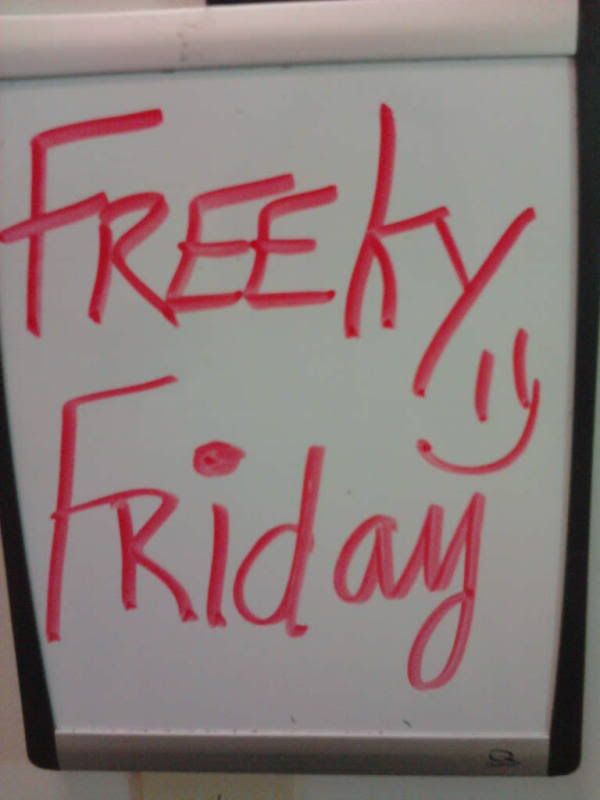 Oh yeah, FREEKY FRIDAY, now with twice as many E's!
Thanks to all who voted on the most ridiculous story of the week last week. It sure was a pretty atrocious week and I was glad when it was over. This week has been decent except for the time when I got an injection straight into my buttcheek.
First order of business, the winner winner chicken dinner for the It's Blogworthy Award for Most Ridiculous Story of the week is, indubitably, the story of the Wicked Witch of Plantopia. And why wouldn't it be? She is ridiculous. We wanted to keep the peace so we wrote her a letter with three options for making it right ALTHOUGH WE DID NOTHING WRONG. Hub called a few law offices because we wanted to cover our bases in case she tried to sue us because crazy doesn't take a vacation and not ONE lawyer would even talk to us. They all said it wasn't worth their time. Lawyers said that. I didn't think lawyers turned down any chance to make money, but I guess we can all learn something from this situation.


So congrats, Wicked Witch of Plantopia, you've won!


Hope it's big enough to cover up that trimmed plant area! And P.S. you've now scared us badly enough that we're going to put up a privacy fence quick as a bunny! So thanks for that!


Enjoy your weekend, folks. I'm going to be chilling with my sister, some close friends, a sheet cake and lots of baby presents (it's shower time!) Then after that, we're going to eat lots of fattening food and spend Sunday watching Friends episodes!




Did you like this? Share it: