I have had a craptacular few days because ridiculousness is just boiling over into every aspect of my life. Sometimes I wonder how many times I'm going to say to myself "Is this really happening?" and/or "what is wrong with people?" and/or "am I taking crazy pills?"
So in honor of this week in ridiculous and so I can laugh so I won't cry, I'll be weaving some tales of a few of the best and then at the end of the week I'll have y'all vote for the most ridiculous for an It's Blogworthy award! Sounds fun, huh? Now for tale numero uno, otherwise known as "The Wicked Witch of Plantopia and Her Bushes".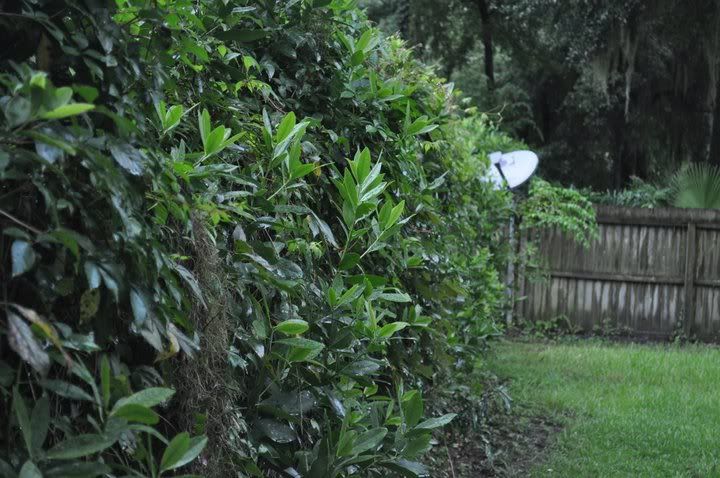 Plantopia….a beautiful place to be.
One upon a time there was a lush, exotic place called Plantopia, where luscious green trees soak up golden rays and liquid sunshine, where shrubs and bushes flower, bloom and vine all over God's creation, and where nature knows no boundaries, enveloping everything from cars and fences to small animals who don't move quickly enough. Long, long ago, in the Before Times, plants grew unabated, and the residents of Plantopia grew weary that their belongings were so often overtaken by the glorious leaves of these wild and wonderful plants. They named the ones with sharp tools to be "lawn care guys", the only ones who could tame the plants. And so lawn care guys gently cut back the vines and branches so the good people of Plantopia could once again drive their cars. And it was good.
But there was one woman in Plantopia who loved many things. She loved teeth, children, children's teeth and various types of dental surgery. She also loved plants — loved them so much that she didn't want the lawn care guys to touch them. She loved her precious plants, the way the branches reached for the heavens, the way the vines looped through the fence and into everyone's property. She loved the wild and untamed look and savored looking outside at the beautiful greenery overtaking all her neighbors' possessions. She dared any lawn care guy to touch her precious, what was rightfully hers.
Then one day, a kind hearted, puppy adopting, cat hugging, RC driving man noticed the Wicked Witch of Plantopia's plants were overtaking his yard and trimmed the bushes. A few days passed and she discovered what he'd done. She was furious. She sent one of her slaves to talk with this kind man. The kind man told the slave he'd happily talk to the Wicked Witch and would meet at her lair.
When he got to the lair, he was greeted with a terrible surprise. She was very mad that her beautiful bushes were trimmed and wanted the kind man to pay….WITH HIS LIFE.*
*Ok, maybe not his life, but definitely with some money.
The kind man realized quickly that the Wicked Witch had a pickled brain that didn't work like anybody else's. He tried to reason with her. He tried to tell her that he was doing her a favor.
"BUT MY PRECIOUS!" she screamed. "YOU MUTILATED MY PRECIOUS!"
It was just a trim, the kind man said, the bushes will grow back within a month or two.
"YOU KILLED MY PRECIOUS! VAANNNNDDDAAALLIIISSSMMM!"
The branches were so out of control, he continued, I was trying to help you out.
"LIAR! ALL LIES! CUT OFF HIS FINGERS AND I'LL EAT THEM FOR DINNER!"
The kind man told the Wicked Witch he would help her by buying new bushes, but now the kind man is afraid she's going to use her pickled brain to think up some really hairbrained scheme and/or eat his dog. Mercy.
But for real, y'all, hub cut down some bushes and our crazy ass neighbor called the cops on him and threatened to file vandalism charges and the words "vandalism" "mutilated" and "liar" were all thrown around, which is the long and short of this particularly ridiculous tale.
To be….continued?
Do y'all have crazy neighbors? Would you enjoy Plantopia?
Did you like this? Share it: