Having a baby on the way has apparently awoken a part in Hubby's brain that has long been dormant, a part that loves Matchbox cars and video games. Maybe it's the eager anticipation of having a little boy to pal around with, or maybe it's that having a baby is a BIG FREAKING DEAL and he wants to get all the immature out of his system in the next 4 months, but all I know is that we've spent more time in Toys R Us lately than any two so-far childless adults should.
As an aside before I get into this story, I want to buy this for my son when he's older: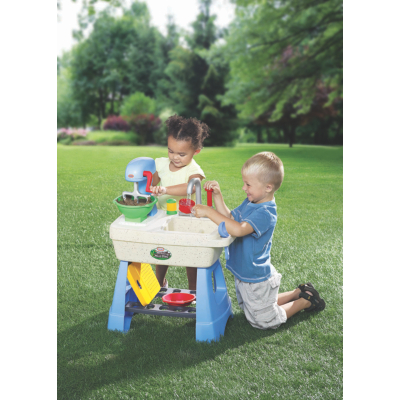 That, my friends, is a mudpie maker. It comes with a real, working sink and mixer. JUST ADD DIRT. I think it's the most evil genius thing I've ever seen in my entire life. I want him to mix and serve mud pies in a REAL way, and I won't even mind cleaning him up because it's just that cute to me.
We were there Saturday to buy a changing table pad and apparently it was also a Christmas in July sale AND we had a 20% off coupon (or two, apparently) and the wait was just too much for him. Hubby needed a radio-controlled car and he needed it in the WORST way. He hadn't mentioned an RC car at all before, like ever in our 5 years together, but according to him, he had a burning desire to drive a tiny car 2000 ft and back and nothing else would do.
We had a "discussion" at Toys R Us about it. He picked up a "Cars" themed RC car and said, "This would be perfect for our son." I was all, our son doesn't even weigh a pound yet. I hardly think this is the appropriate toy for him. He countered by saying that this type of toy would probably last for awhile and that our baby would just LOVE IT! It was $25. I suggested all the things that would be a better use of $25.
He walked to the next aisle and saw an even better RC vehicle that was $30. Hubby thought long and hard about it and then asked what I thought. I told him that if I was mad about a $25 RC car, why would I think a $30 RC car would be better? It was a humongous yellow Hummer, and he said it looked sturdier and would last longer. Although I still had a hard time figuring out why he needed it, I said "WHATEVER", threw down the changing pad and walked to the bathroom. I was hoping he'd make the "smart decision" to not buy it when I met him at the car, but there it was in all it's yellow glory, hanging out in the back seat of the car.
A car in the back of a car. Who would have thunk it?
The batteries needed to charge for 8 hours before he could play with it. He took it from the box, left the box in the kitchen for cats to play in, and "parallel parked" it next to the TV. We waited and waited and waited. Around 9 PM he looks at the dog and says, "Truffles….only 2 more hours…get excited!" And I asked why we were supposed to be excited?
He looked at me with a smirk and said, "It's HUMMER TIME" and then proceeded to hum the tune of Hammer Time and it was probably the best moment of my whole week and totally worth that $30.
So it gets charged up and he has the BEST time driving that son of a beast around the house. Of course the dog hates it with a white, hot passion and will bark incessantly at it and the cats are scared out of their wits. But who cares when there is a tiny vehicle to drive around? He drove it across the living room and into our bedroom and back, did a few donuts, rammed into my shoes and then parallel parked it again for the night.
Sunday he took it out on the open road. Imagine an RC car cruising down the street with a grown-ass man behind the controls and try not to laugh. He brought it back in the house and harassed our animals with it until the battery died. He had to manually parallel park it and I had to resist the urge to make a "Hummer Parking Only" sign.
Monday evening I was getting ready for bed when I heard the telltale buzz of the Hummer coming to greet me. I thought Hubby would be right there in the dining room, wheeling away, but it was just the lone Hummer, staring at me with it's creepy headlights. I looked into the living room and Hubby was sitting on his lappy pretending like he didn't drive it.
And I have to say it made me laugh. A lot.
Is this what I have to look forward to when my son is old enough to play with Hubby?
Did you like this? Share it: