Well y'all I'm back from my big adventure to the beautiful Caribbean. This was my second cruise, but Hubby's first. Thanks to all the great bloggers who filled in for me: Jennifer from Crazy Shenanigans, Hutch from Be Awesome Instead and KLZ from Taming Insanity.
I just want to give you some highlights of my vacay because usually people talking about their vacation sounds either braggy or boring. First, our stateroom: We choose the inside state room, so we really had no idea what time of day it was or what was going on in the outside world. My Hubby is a tall person and could barely fit into the shower. His legs hit the tub when he sat down on the toilet. It really wasn't a problem though; totally nice and cozy accommodations.
But our bed was humongous and had these curtains that closed off our bed from the rest of the room. I mean there wasn't really a function for it because it was just the two of us, but how cool is it to "pull the curtains" before you go to bed? I pretended like it was our own personal yacht and we were rich people. I mean, is that what rich people do? Sleep with the curtains drawn in their private yacht? If you're a rich person, let me know. Also, give me piles of money.
If you've never been on a cruise, forget about losing weight and in fact, just plan on gaining 7 to 10 pounds while you're there because you will have a never-ending stream of food placed in front of your open mouth. Cruise people do NOT want you to be hungry, because hungry = cranky and that's not the point of a cruise. We're talking a breakfast buffet, followed by a seafood lunch buffet, followed (much later) but a four course meal. Want some crab dip, then a salad, then a steak, then some baked Alaska? HAVE IT EVERY NIGHT.
And if you happen to be hungry during the times when there isn't a buffet or sit down meal available, you can head to the counter and get pizza, hot dogs, fruit, french fries or wraps. I mean the pizza itself — imagine you walk into a pizza place and say, Hi, I'd like some pizza please and they say, "how much?" and you say 'THE WHOLE PIZZA" and they say, OK, that will be 0 dollars and 0 cents, have a great day! That was our life. Plus, all the Coke you could put into your body and y'all? Disney has the BEST Coca Cola on the planet. I don't know what they do to make it taste so good but I could drink it every second of the day.
We got all glammed up for dinner and the nightly show. It was a nice change of pace from dinner in front of the TV. Here's me walking the red carpet for the "Golden Mickeys":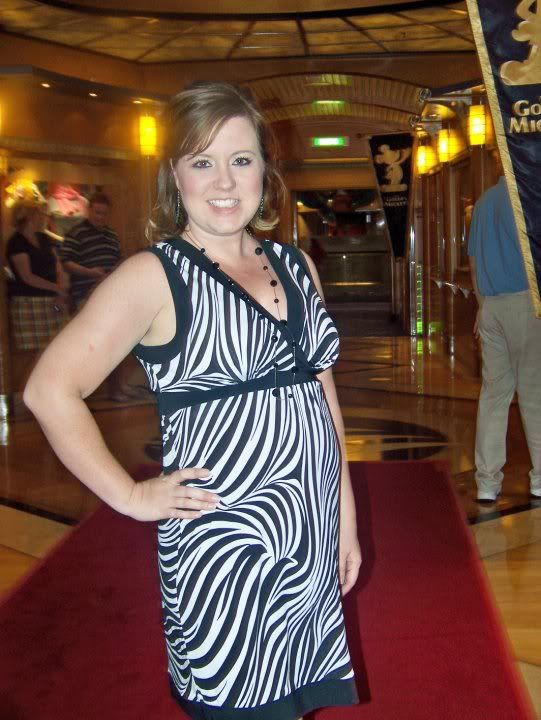 Our five night cruise consisted of two trips to Disney's private island, Castaway Cay and one trip to Nassau. The first day was to Castaway Cay and it was just beautiful, then the next morning we were in Nassau and then we had a "day at sea". Nassau is, like, 64 nautical miles from Castaway Cay. I'm pretty sure we just docked or at the very least sailed at like 2 nautical miles per hour. Why should I care, I got to lay by a pool for several hours and learned how to make towel animals.
Let's talk about the Caribbean for a second.
That's sick beautiful, right? I mean it's almost unfair how lovely the beaches were at Castaway Cay. The water was amazingly clear and the perfect temperature. They set out little umbrellas and lounge chairs for us to enjoy and there were people walking around taking your drink orders and it was amazing. If I didn't have these silly obligations like a JOB or MORTGAGE, I'd so quit it all and open a restaurant in the Caribbean. I'm  serious as a heart attack. It's just gorgeous.
Plenty of time for this:
WHY ISN'T THIS MY LIFE? That's me sitting my fat butt in a chair in the water reading a book.
Also some of this:
That's Jazz Hands for my girl Hutch and another blog shout out to Surferwife — this is the tankini I ordered. Does it feel like I took y'all with me? I hope so.
Speaking of Jazz Hands?
Hubby even got into it!
Who likes baby bumps?!?
Well that's my vacay in a nutshell. I had the best time but missed my bloggy friends. Tomorrow is Bachelorette recap day — get excited!
Did you like this? Share it: