Hubby and I dated for over a year and a half and had talked about marriage, but he always said he wanted to be able to afford a nice ring and just wasn't able to at the time. I was like NO BIG DEAL, my life is not defined by what age I am married, I AM SECURE IN OUR RELATIONSHIP (and I truly was). When we started planning our summer vacation to St. Augustine, FL, in May 2006 it wasn't even on my radar.
I purchased my first new car that Spring and we were going to drive it to Florida, stopping first in Charleston, SC on the way down. We left unreasonably cold WV for Charleston after work on a Friday night. The trip to Charleston was only about 7 hours, so we were there close to midnight and checked into our ghetto fabulous hotel. Hubby was, like, a FREAK about locking my car. He did the thing he STILL does to this day, where he will lock the trunk, then push down on the trunk, then lock it again. He looked out two or three times just to make sure the car was OK, and I was all, buddy, listen, I know you're excited about my new car, but honestly, take a chill pill.
We left Sunday for St. Augustine. Once we got to the hotel and carried our luggage in he started acting weird and quiet and I only noticed that looking back on it. It was sort of late and we were tired from the drive, but he still wanted to get up for an early morning walk on the beach. I'm such a grump in the morning and I was not having it, but he insisted. I'm like whatEVER, I GUESS I can take a nap in the afternoon BLAH.
Dark o' thirty in the AM rolled around before we knew it. We put on our beach walkin' clothes and started to head out. Hubby was holding his binocular bag and I couldn't figure out why, I mean a) what did he think he would see at 6:30 am? cruise ships? dolphins? and b) why would he need binoculars for it?
We started out and walked and walked and walked and walked, then turned around and walked, then he stopped and bent down to pick up a shell (or so I thought). I turned around in a huff because sister ain't drank her coffee yet if you're picking up what I'm laying down.
Before I had a chance to yell, he was on his knee ON THE BEACH AT SUNRISE with a diamond ring. I don't remember what he said because he truly caught me off guard. All I knew is that the answer to that question was a resounding YES.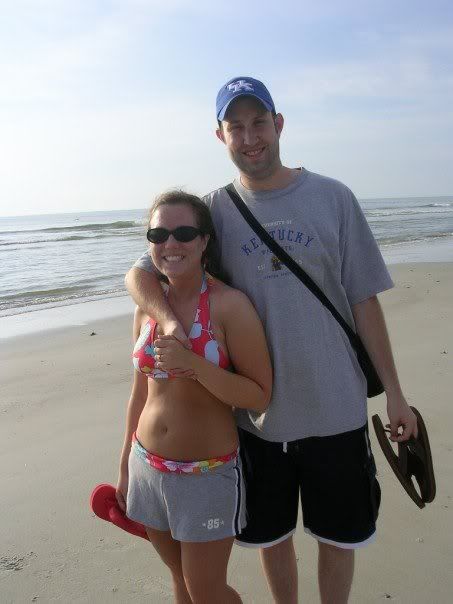 Approximately 3 minutes after he proposed.
The person we stopped to take our picture wasn't
nearly as excited about it as we were.
It turns out he couldn't figure out how to fit the ring box into his shorts without me noticing, so he put it in the bionularless bionocular bag. And the obsessive car locking? Three months salary was in that trunk. Now how was I supposed to know that?
We were married almost a year to the day later at our outdoor amphitheater.
Should I go ahead and tell the photographer story? It's such a doosey, but this is getting long and it's my third post this week….do you guys mind? Here we go.
The photographer we chose was nice and cheap. Please, please, please, for those of you getting married, do NOT, under any circumstance, allow "cheap" and "nice" to dictate your wedding photographer choice. She was a nightmare. Her behavior included:
Even though I told her to NOT photography my sister and I without makeup, she did.
She messed with my sister's dress and said "Let me just tuck you in….even skinny people can have back fat." and if looks could kill, my sis's gaze could have killed her instantly with white-hot firey rage.
She told me my smile was cheesy.
She booked another wedding while shooting ours and BRAGGED about it.
She jumped in line before my in-laws during the buffet.
Hubby likes kissing me on the forehead because I'm so short and he's so tall, right? He probably did it 40 times during the reception. Toward the end she goes, "Hmmph. I swear, he just keeps kissing you and I miss it."
At one point she said, "Well there are some shadows here, so I'll just put it on this setting and hope things come out" THANKS FOR INSTILLING CONFIDENCE.
She overcharged us for our prints and took 3 months to send them. Out of 500 shots, we could barely find 100 that we liked enough for our album.
Please look beyond cheap and nice. The only good thing to come out of this experience was our ability to laugh at back fat.
Everything else was perfect — perfect weather, yummy food, surrounded by my family and best friends. It was stressful, but beautiful. Here are some pictures!
My brother-in-law is a pastor and married us.
Us posing by the fountain,
yes, there is a copyright all up on that picture
but who has two thumbs, a cheesy smile, and doesn't give a crap? *this girl!*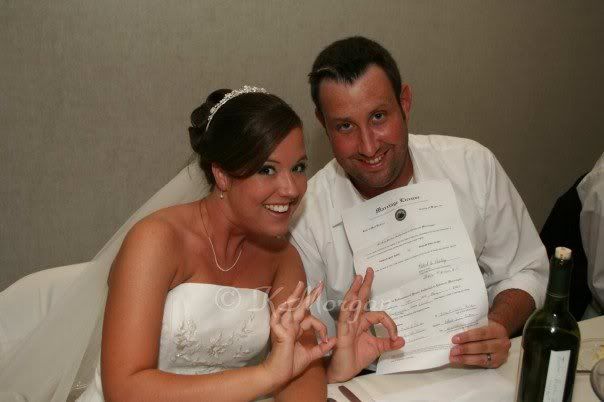 After the wedding, we spent a week in Mexico at an all-inclusive — I called it Wedding Rehab 2007.
Thanks for indulging me on this little trip down memory lane! I hope you enjoyed. I love hearing love stories, proposals and wedding stories, so you guys should share yours, too!
Did you like this? Share it: