Usually around 2 to 3 pm I start getting the afternoon blues here in the old cubicle. Usually it's just a case of the sleepies, but lately its' been exacerbated by the snug fit of my work pants. There are days where I really can't think of anything more than crawling under my desk for a nap. Just a short one.
So yesterday I texted my sister and the following conversation occurred. I'm transcribing these texts just like I got them :
Me: I look and feel yucky.
Sis: I'm sure you look pretty.
Me: I don't. Fat and ugly face!!!!!!!!!!!! Boooooo
Sis: Noooooooooottttttttttt!!!
Sis: I'm eating a cookie for your plus one.
Me: Oh yummy, what kind?
Sis: Smiley face cookie from Servattis!!
About this time she sent this picture:
My sister will do pretty much anything, include making the nastiest face ever, to make me laugh. The subject of this message said, "BTW, THIS is fat and ugly".
Me: Whatever. You are SO not fat! Or ugly! At least your pants are zipped.
Sis: ……OR ARE THEY?
Me: Hahaha it would be so awesome if they were! (they were, but only because the top clasp was broken. So technically, they were just not broken).
Right about this time, I sent her a picture of me: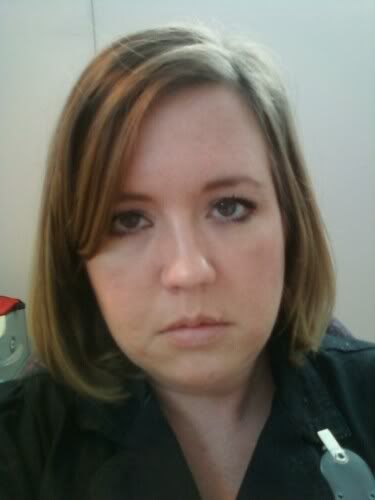 Sis: (in response to this picture) You must have sent the wrong pic. you sent a beautiful picture of yourself.
So I sent this one: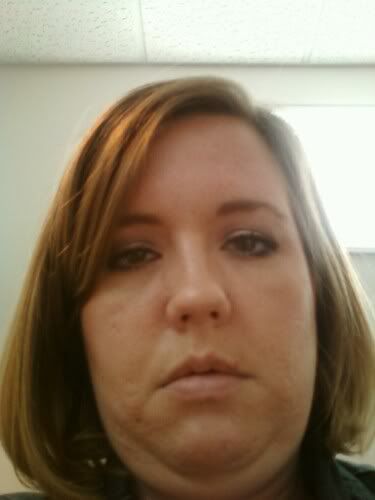 She must have gotten the picture and I basically won the "I'm uglier" contest because she never did write back!
This is so what we do all the time, though. We spend a lot of time together saying things like, "You're so pretty." "No, you're prettier." or "I have the best sister." "No, you have the second best sister because I have the best sister." It's truly ridiculous on many levels. And believe it or not, we both found guys who would marry us.
Oh, so question for you guys. Let's say someone was interviewing for a job. What are your thoughts on kitschy leave behinds, like notepads with the candidates names on them, or personalized pencils? Tacky or brilliant?
*Update* This "leave behind" is not my idea because I am not interested in looking for a new job at all. But there are people who do come through here whether it be interns or applicants or whatnot, and they bring a variety of interesting leave behinds, so I guess I'm more curious as to what you guys think of people coming in to interview at your place of employment and who later leave things. That is all.
Did you like this? Share it: