If you've missed them, Volume 1 and Volume 2 of this epic trip.
So during our getting famous and not getting killed, we tried a new feature at Hollywood Studios which is the Animation Station. I might have just made up that name, but it accurately describes the attraction. It's part of the animation "studio" that used to be a really legit studio until they decided computer animation was the way to go. How it's mostly a place to get awesome pictures taken with Disney characters. And they also pretend actual animation goes on here.
The Animation Station is a 20-minute class in which a Disney employee who is an artist teaches guests how to draw Disney characters using basic shapes (apparently how real cartoonists do it). We took the class three times during the weekend and learned to draw Donald, Goofy and Mickey.
First we learned Donald:
My Donald.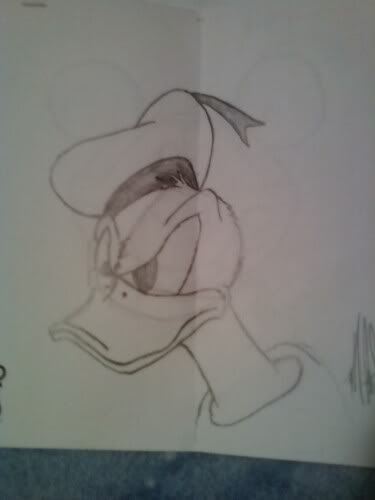 Hubby's Donald (Clearly mine is better)
Next was Mickey:
How awesome is my Mickey, anyway?
Hubby wouldn't let me post his because he said it was too horrible. I probably could have posted it anyway because he doesn't read this, but I'm a really nice wife.
The last class, we drew Goofy:
Hub's Goofy.
My Goofy.
So I know by now you're all totally jealous of my drawing skills, but please note that I am not planning on making this a career because it was stressful, y'all! There were no erasers on those bad boy pencils! But I do sort of kick butt at drawing Disney characters.
To thus ends my fabulous journey to Orlando.
I had every intention of posting this yesterday, but we're suffering from Man Cold 2010 (the sequel) at my house which is sucking every spare bit of energy from everyone that lives here.
Did you like this? Share it: