Is your bracket ready? Did you decide based on team color? Or the the fact that you want to go to California on vacation? Or you saw the player on that one team on TV and his hair looks nicer than yours will ever look, so you choose the other team to win?
Now that you've made those decisions, time to make some more…get ready people, it's the mascot bracket!
College sports have the most amazing mascots ever. I get so excited when I go to games and get to take pictures with or close to mascots. Sort of like Salt on her honeymoon.
I do my mascot bracket as if one mascot was fighting the other. And I'm very literal about it, too. Like the Richmond Spiders? Will totally get smashed by the St. Mary's Gaels (and I don't even know what a Gael is). Birds that "look tough" will beat birds who do not and insects. Small cats will beat birds, insects and some people. Big cats will beat small cats, all people and bears, but not grizzlies (because in my mind, grizzlies are much bigger and scarier than regular everyday bears). People will beat small animals like dogs, all birds and insects.
I presume people are unarmed, that's because I want all cats (small and large) to advance. People mascots are lame. But I also presume that some people mascots are stronger than others. An unarmed UTEP Miner is going to be stronger than an unarmed Vanderbilt Commodore because I think of commodores as sort of uppity and they totally hide behind their big canons, so unarmed a miner who works all day in a dark, dingy mine swinging a pickax or whatever miners use, has big muscles and therefore could beat a commodore. Feel me? This is why, if you're a mascot, you should pick an occupation that will give you big muscles.
This is the fuzzy logic I use to construct my mascot picks.
My final four are the Houston Cougars, Oakland Golden Grizzlies, Montana Grizzlies and Old Dominion Sassy Pawed Lions (it's something else but that's my name for it because he has an awesome sassy paw and crown).
The Final Four matchups were a toughy for me because I really didn't want to decide between two grizzlies.
I wrote it in and Hubby said, "Do you want it because you want it to win, or because you think it would really win?" And I was all, "In my heart I know the grizzly would win." So he said, "What if the bear was walking backward and the lion jumped on his back?" And I said, "If I made that happen this round, I'm just going to have the same decision to make when the Sassy Pawed Lion plays a grizz in the next round. I'm just going to go with the grizz."
Golden Grizz wins because it's golden.
My sister, the wonderful Sarah from Princess and the Blog, has a different way of doing things. Here she is in her own words!
My bracket is based on a structured hierarchy:
Birds beat humans
All other animals beat birds
Cats beat all other animals
If two teams play each other and have the same mascot, I will go by what the actual mascot looks like, the school color or school name. Anything that is not a human, bird, or animal gets placed depending on my mood. A bad mood will result in "A tree? That is a terrible mascot. It loses." A good mood will result in "Look at that tree's googly eyes! How cute! Win!" Typically these type of mascots only beat humans and birds. I always will place rare mascots (turtles, beavers, ducks) above run-of-the-mill mascots (bulldogs, wolves, bears).
I thought the MidWest division was the most difficult this year. There was a whole section of non-animals, so I ended up picking a "worthless nut" that is a cute mascot compared to the other 3 mascots it was playing against; I had to choose between two different hawks; and there was a major upset where the extremely cute Testudo, the diamondback terrapin from Maryland beat Shasta the cougar from Houston.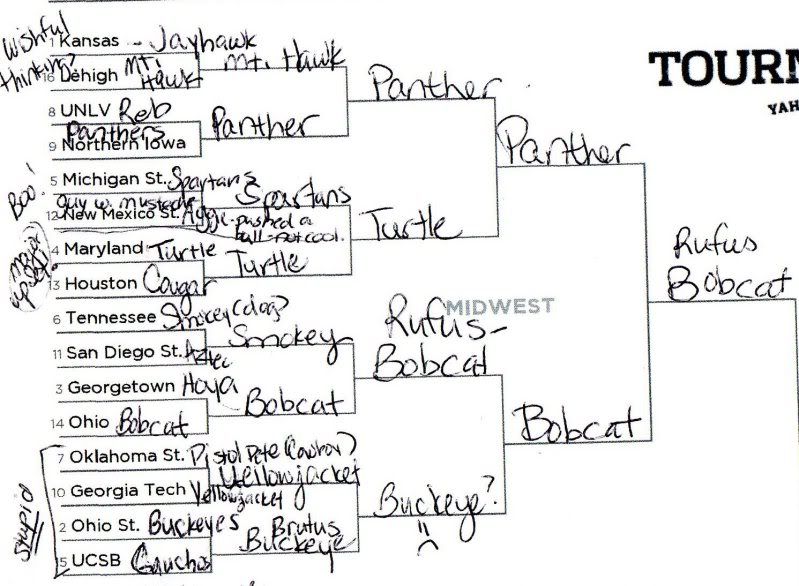 Actual bracket. See how upset I was about some of these match-ups? A Spartan vs. a guy with a mustache. Bird vs. bird. Cowboys vs. Yellowjackets vs. Gauchos vs. Buckeyes.
I can pretty much copy over my bracket year-to-year because I use the same hierarchy every year. Apparently it was quite humorous to certain people that actual know a thing about basketball (like my husband) thought it was funny that I had 3 of the 4 #1 teams being beat by #16 teams. IT TOTALLY COULD HAPPEN…At least in Sarahland. This year, like any good year, I end up with all cat-related mascots in the final four. What can I say? I'm a crazy cat lady.
My three runners up this year are:
The Clemson Tigers. Clemson almost didn't make it out of the first round because they faced the Missouri tigers…that is, until I saw they have a tiger AND tiger cub mascot. It is like 2 cats for the price of one! Win and Win.
Rufus the Ohio University Bobcat. I like him because his name is Rufus, he is from Ohio (which is where I work!) and I think bobcats are really cute in real life.
Cosmo the Cougar from BYU. This division had some really tough cat-competition (the Pitt Panthers and the Vermont Catamounts were runners up). Cosmo gets the edge because I really like his name. Plus the Pitt Panther is kind of creepy looking and I couldn't find any good pictures or information on the Vermont Catamounts.
My pick for winning it all? 2 words:
OLD DOMINION
Now, I have no affiliation with Old Dominion. I didn't go there, my family didn't go there. Yet every year that they are in the tournament, I choose them to win. I just know that one of these days, they will be the Cinderella story and I will win me some big bucks!! It is totally plausible that an 11 seed could win it all, right?? However, the real reason I like them is this:
LOOK AT HIM! HE is a CAT, with a CROWN and a SASSY PAW. He is the king of all cat-related mascots and in my book, that wins, hands down.
Who won your mascot bracket?
Did you like this? Share it: