Have you missed me posting all over your blogs the past few days? Hubby and I have been in West Virginia, the place of our births the place of my birth because Hubby will never let you forget that he was born in Kentucky even though he was raised for most of his life in WV and..AND…eastern Kentucky pretty much is the same as WV, how is that even better? Anyway. That's where we were. And boy, oh boy did I get behind on my blogging.
It was great for one reason only — sister time. Sister time is my favorite time ever. It's filled with just pure awesomeness topped with icing from the most delicious cake place called Servatiis.
This is what I imagine Sister time looks like: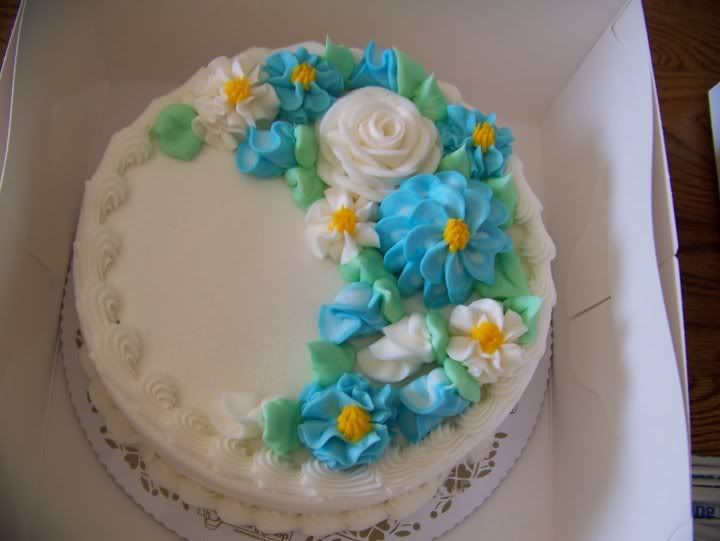 We totally demolished that cake.
We had the best time just sitting around and talking and eating and then a not so great time watching UK lose to my mortal enemies, WVU. Then we reverted back to best times by making her cats dance.
Before the trip to sister's house, Hubby and I visited my Mom and Dad, who are getting ready to sell our childhood home. Mom finds all sorts of treasures, and by treasures I mean things that she doesn't have the heart to throw away, so she gives them to us to "do with them what we will."
One of these treasures was a big, plastic Big Boy bank. Do y'all have Shoneys? Well long ago and far away, Shoney's used to be Shoney's Big Boy. I guess there are still Big Boy restaurants around, but here is the logo:
via
So I'm laughing thinking, where on God's green earth did this come from? Mom proceeds to tell me how when my sister and I were little, she wanted this Big Boy bank more than anything and Mom wouldn't buy it for her. Big sister stepped in and bought it for her as a gift. Now I know, you're wondering, how did a young child get money to buy something like this? And to that I don't' have an answer and neither did Mom. It's so appropriate, though, because my Sister has always been awesome with money and is now an accountant, so I like to think I was building her dreams even at a very young age. I'm selfless and amazing like that. You're welcome, Sissy.
I decided it would be super funny to take the Big Boy to her for it to live in it's rightful home. Hub and I brought it in and wrapped it in paper we found in Sarah's dining room, then handed it to her. She was all, "Oh! A present!" and then laughed her face off when she saw it: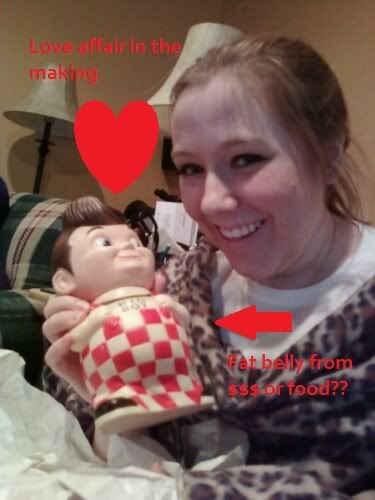 Please note the Snuggie she has on. And look how the Big Boy is staring longingly at her. Her husband better watch his back, is all I'm saying.
And also during this trip, our husbands went shopping together which we both agree will NEVER happen again. Go to her blog to read about that story and to see some male modeling.
Oh! And we are both known for saying some random things because that's just how our brain spits them out. Sarah was showing me her scrapbook calendar and one page has a pic of our two cats who passed away and Sarah's new kitties. Sarah said, "These are my two dead cats and these are my two alive cats" and also "He [one of the new cats] has a skunk eye in this one because he has the herp." And those are both reasons why she's the best.
Then on the way back, Hubby and I were simultaneously bored out of our skulls and terrified for our lives. If you don't know that feeling, drive I75 through Tennessee.
We're really into huge mugs lately, like the ones that hold 72 oz of water or whatever, because we both need to drink a ton more water than we already do. So I borrowed one from Sarah and then he randomly found one at a gas station. He found another use for it when we stopped at Arby's: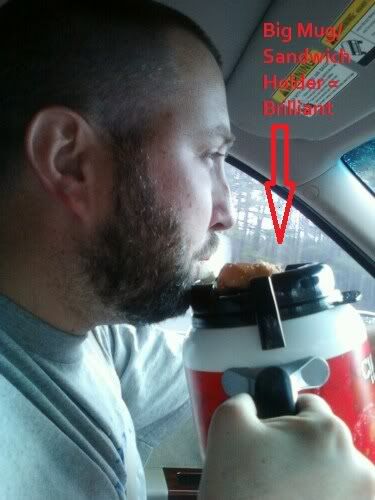 I am unbelievably proud.
Did you like this? Share it: