This post brought to you by Bahama Breeze. All opinions are 100% mine.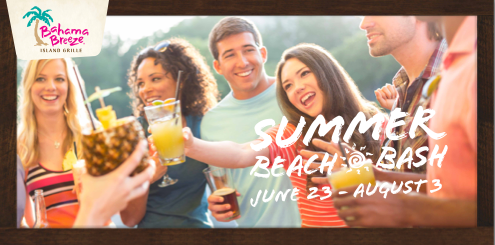 I've loved the beach as long as I can remember. I love the smell of the ocean, the white noise from the crashing waves, the sun and the breeze, and my toes in the sand.
I was land-locked in West Virginia, unless you count lakes or polutted rivers which I do not — so yeah, i was landlocked. When we moved to Florida, I thought for SURE I would be at the beach every weekend, soaking up the rays and reading a book in my lawn chair. Guess what? Gainesville, Florida is also land-locked..ish, unless you count the springs and gorgeous river, which I do — but yeah, still no ocean. And I'm sad to say, we've only had one trip to the beach in at least 18 months. Please dont' cry for me. My life will go on.
Despite being only two hours or so from the shore, our favorite tropical destiation is…Orlando. Which is…not tropical at all. Disney World wildlife, sure. And, I mean..there's the Enchanted Tiki Room? So, sort of?
When we can, we love to go to our local Orlando Bahama Breeze for a little salt life smack dab in the middle of Florida. They have great food, yummy tropical drinks and the patio feels like you're in the Islands. What more could you ask for?
Bahama Breeze is kicking it up a notch with the Bahama Breeze Summer Beach Bash now until August 3, featuring live Island music on the patio, a mojito bar, and a new signature cocktail, Bahama Breeze Ultimate Pineapple, served in a fresh-cut pineapple. My favorite meal there is the Fresh Pan-Seared Salmon Pasta, and that would be a perfect addition. A little salt life in the middle of the city? Don't mind if I do. After all, Bahama Breeze is the "summer destination for good times" — it's as close as you can get to enjoying the beach when you're miles from the nearest one.
Think your beachy selfie skills are better than mine (unlikely)? Bahama Breeze wants to see what you have. Enter the #MyBBSelfie Instagram contest. Share your favorite selfie enjoying your time at the Summer Beach Bash and use the hashtag #MyBBSelfie for a chance to win Bahama Breeze gift cards and prizes.
Now if you need me, I'll be dreaming of my next beach trip — or one of those delicious mojitos.
Did you like this? Share it: